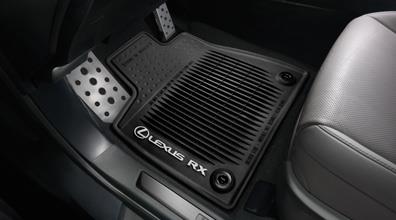 At Flow Lexus of Greensboro, we know the value that accessories can provide. One of the most popular accessories is genuine Lexus All-Weather Floor Mats.
Just as the name implies, genuine Lexus All-Weather Floor Mats are one of the best ways to protect your vehicle's interior.
All-Weather Floor Mats can give you a much needed protective barrier for your vehicle's carpet. Even though your carpets are not a major safety concern, it is a vital factor in determining resale value. Protect your investment by keeping your interior Lexus interior in mint condition and protect your vehicle's resale value with Lexus All-Weather Floor Mats.
Whether your current set is worn out or you're looking to change things up, a new set of floor mats can breathe new life into the interior of your Lexus while protecting your vehicle from the elements, and you from possible germs.
This simple upgrade can help make your car a touch more luxurious and equip it for the health and safety of your family by having removable floor mats that can be taken out sanitized and put back in by our Lexus factory trained technicians.
Why should I get new floor mats?
Floor mats are the only thing separating your feet from the flooring in your vehicle. Without this crucial layer of protection, your interior is vulnerable to friction created by your feet and any debris that finds its way inside. Floor mats also protect against spilled liquids or mud, which can lead to mold and stains if left unchecked.
Lexus OEM floor mats are all but guaranteed to fit perfectly in your car and coordinate with its interior design, at Flow Lexus our factory trained techs will ensure that they are installed properly to ensure your family's safety.